Rutgers Institute for Health is delighted to announce the fourth Catalyst Symposium, "Introducing the New Jersey Practice-Based Research Network" on Thursday, June 3rd – Friday, June 4th, 2021.
The goal of this meeting is to commemorate the launch of a new initiative to increase the presence of New Jersey clinical practices in academic research by bringing together clinicians, researchers, and leaders across the country.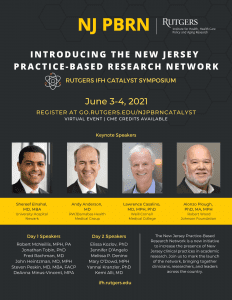 The two-day event will feature keynote speakers Dr. Shereef Elnahal, President and CEO of University Hospital Newark & former commissioner, New Jersey Department of Health; Dr. Andy Anderson, President and CEO of RWJBarnabas Health Medical Group; Dr. Lawrence Casalino, Professor of Population Health Sciences, Weill Cornell Medical College; and Alonzo L. Plough, Vice President of Research-Evaluation-Learning and Chief Science Officer, Robert Wood Johnson Foundation.
The learning objectives for this symposium are:
Understand the value of practice-based research
Identify opportunities for practice-based research in NJ
Registration can be found at go.rutgers.edu/njpbrncatalyst, with CME credits available to interested attendees. Please send any questions to Oliver Lontok at njpbrn@ifh.rutgers.edu.
To learn more about the New Jersey Practice-Based Research Network, visit njpbrn.rutgers.edu.