In September, faculty and staff from the Rutgers-NYU Center for Asian Health Promotion and Equity (CAHPE) attended the Health Equity Action Network Annual Community and Scientific Partners Meeting in Bethesda, Maryland.
Soko Setoguchi and Bei Wu, Principal Investigators, CAHPE, and Keith Chan and Emerson Ea, Co-Principal Investigators, presented an overview of the center and it's research mission. Setoguchi co-chaired the climate and environmental/chemical exposure group, and Wu chaired the implementation science group. Attendees also attended breakout sessions hosted by subgroups including Community Health Workers Approaches, Healthy Food/Diet, Environmental/Chemical Exposure, Social Justice, Implementation Science, Mentor/Mentee Training and Evaluation, Maternal Child Health.
CAHPE scientists also showcased their research:
Karen D'Alonzo and Shailja Mathur presented "Chasing the American Dream: Acculturation stress, truncal obesity and cardiovascular risk among first-generation Asian Indian immigrants in New Jersey."

Eunyoung Choi presented "Ethnic enclaves, Mental Health and Cardiometabolic Risk in Asian Americans."
Yanping Jiang presented "Aging in a foreign land: social isolation, depression, and cardiovascular health among older Chinese immigrants."

Shuyuan Huang presented "24-Hour Activity and Cardiometabolic Health in Chinese Immigrant Women with History of Gestational Diabetes."
The Health Equity Action Network (HEAN) is a National Institute for Minority Health and Health Disparities (NIMHD)-funded national consortium of health researchers and community partners bringing innovative solutions for prevention and management of multiple chronic conditions.
The meeting convened representatives from 11 P50 Centers that work regionally in partnership with community-based organizations to conduct research to improve health equity.
The mission of the Rutgers-NYU Center for Asian Health Promotion and Equity (CAHPE) is to improve the cardiometabolic and mental health of U.S. Asians through a robust research infrastructure and resource structure and to develop the next generation of scientists focused on these health disparity issues.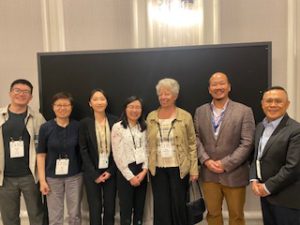 Attendees affiliated with CAHPE included:
Soko Setoguchi, MD, DrPh, Principal Investigator, CAHPE, Professor of Medicine and Epidemiology, Rutgers Robert Wood Johnson Medical School and Rutgers School of Public Health
Bei Wu, PhD, Principal Investigator, CAHPE, Dean's Professor in Global Health and Vice Dean of Research at NYU Rory Meyers College of Nursing
Emerson Ea, BSN, DNP, MS, PhD, Co-Investigator, CAHPE Community Engagement Core and Clinical Associate Professor and Associate Dean of Clinical and Adjunct Faculty Affairs, NYU Rory Meyers College of Nursing
Keith Chan, PhD, Co-Investigator, CAHPE Community Engagement Core and Assistant Professor, Silberman School of Social Work, Hunter College
Mary Mittleman, DrPh, Co-Principal Investigator, CAHPE Project NYUCI-ES, and Research Professor, Departments of Psychiatry and Rehabilitation Medicine at NYU
Lisa Lanza, PhD, MPH, RDN, CLC, Research Coordinator, CAHPE
Yanping Jiang, PhD, CAHPE Scientist, Instructor and Core Faculty Member, Center for Population Behavioral Health at Rutgers Institute for Health, Health Care Policy and Aging Research
Shailja Mathur, MS, MEd, RDN, Co-Principal Investigator, CAHPE Project , Family & Community Health Sciences Educator II, Rutgers Cooperative Extension of Somerset County
Karen D'Alonzo, Co-Principal Investigator, CAHPE Project , Associate Professor, Rutgers School of Nursing and Founding Director, Center for Community Health Partnerships in the School of Nursing
Shuyuan Huang, PhD, CAHPE Scientist, Assistant Professor and Faculty Fellow at NYU Rory Meyers College of Nursing
Eunyoung Choi, PhD, CAHPE Scientist, Postdoctoral Associate at NYU